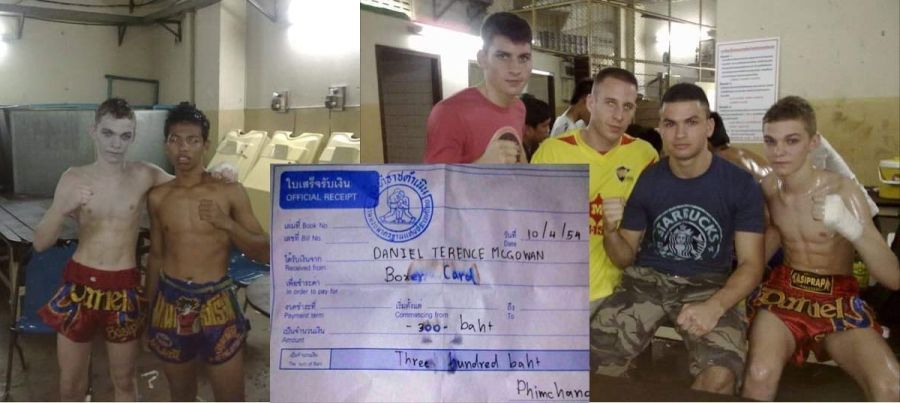 My first professional fight at Rajadamnern Stadium
5 o clock in the morning my alarm had woken me up, I hopped off my top bunk got ready and headed down the stairs of the famous Sasiprapa gym to go check my weight on the scales… 101lbs, perfect! We jumped in Thakoon's (owner of Sasiprapa gym) car and headed to the famous Rajadamnern stadium to weigh in.
I hadn't ever stepped foot in any Muay Thai stadium as it was my first time in Thailand so this was my first experience, I never thought at age 15 my first experience of a Muay Thai stadium would be weighing in at one!
I tried to just look as confident as ever to mask the fact that I was shitting myself a little..
I stroll in through the doors and was the only white boy in the room so straight away everyone's eyes were on me and a lot of them were quite blatantly having a chit chat about me right in front of my face, if that weren't daunting enough I then had to line up for a doctors check in a line full of angry little dehydrated Thais and it was at this point I thought "WTF am I doing here?!" I tried to just look as confident as ever to mask the fact that I was shitting myself a little. I went through all the procedures, doctors check, handed my passport to the officials and then waited for my time to weigh in.
"DANIEL SASIPRAPA GYM"
was belted out by one of the officials, it was my time to weigh in…
So it wasn't quite my Ricky Hatton style weigh in I had hoped for in fact it was quite the opposite, I had to walk in to a caged room with a few Thai men surrounding it in my boxer shorts… well that's what I thought. I was about to jump on the scales when the officials then told me to whip my boxers completely off, I looked back at my dad and Thakoon with little puppy eyes thinking again "WTF am I doing here" then stripped off and then hopped on the scales.
I made the 101lbs (45kg) limit then went and had breakfast at the little restaurant outside the stadium. I was really struggling to eat due to the nerves it was a completely different experience to what I had expected and I felt like a proper outsider and completely out of my comfort zone.
All these nerves but I still knew what I had to do and I was still 100 percent confident I was going to get through it all and get a victory.
I finished my breakfast then headed back to Sasiprapa gym and was basically forced by the trainers to sleep, I tossed and turned for hours all I could think about is the fight more excitement than nerves:
I wonder how it feels to hit shin on shin?

How would it feel to elbow or knee someone in the head?

How would it feel if I got elbowed?
All these thoughts going through my little brain. I felt majorly confident though and was counting down the hours to go back to the stadium and get ready to fight. The time had come, the Mongkon, gym robe, Thai oil, Vaseline, hand wraps and tape had been packed and ready to go to Rajadamnern stadium.
---
My opponent threw an up elbow in my direction then smiled, I just gave him a smile back and turned to my dad and said "he'll regret that".
The stadiums in Thailand are not like a football stadium or how you would expect a "stadium" to look, the changing rooms (or should I say room) is definitely not as luxurious as a football stadium changing room. 1 room with a load of old wooden tables and some groggy showers and toilet cubicles, with every single fighter and their corner men filling one table each – there were no blue corner or red corner changing rooms.
I hadn't seen my Thai opponent weigh in so I was getting my Sherlock Holmes on and tried to scope out who my opponent could be. As I looked around I caught eye contact with a Thai lad who looked similar size to me I was sure it was him but I didn't want to ask and seem like I was bothered.
I then got oiled up for the pre-fight massage, the Thai trainers absolutely caked me in the stuff I looked like I should feature in Madame Tussauds! After the massage had finished I sat up on my table and made eye contact again with the same Thai, he was now shadow boxing whilst looking at me dead in the eyes – he then threw an up elbow in my direction then smiled, I just gave him a smile back and turned to my dad and said "he'll regret that".
My hands had been wrapped, they were as solid as a rock I then got called up to put on the official fight gloves – beautiful black and red Raja 6 ounce gloves. They were rock hard and I could feel my knuckles through the gloves, love it!
Time was ticking and it was getting closer and closer to the fight, my trainer had said his final prayer before putting the gym robe and mongkon on me and then we were taken out to the arena. I was sat down on wooden bench watching the fight before me sat next to my opponent!
The crowd were going absolutely bonkers, it was the same sound I'd heard in videos on Youtube and it was the sound I dreamed of for a long time. The gamblers and the crowd bellowing every time one of the fighters threw a shot and the longer the round went on the louder it got. In the end I remember it being an absolute one sided beat down and it ended in a referee's stoppage. The fighter who lost walked past me with 2 big cuts on his face from elbows the blood was pouring down his face and chest he looked like he was in a lot of pain… probably not what I needed to see before my first professional fight, however I was in the zone and so focused and had that young 15 year old kid fearless mentality.
I then stood up and strutted to the ring the lights seemed to brighten and as I jumped into the ring I looked around and was in a bit of disbelief at the fact I was finally inside the very ring all of my idols had stepped in, this is truly when I fell in love with Rajadamnern stadium.
The live band had started playing the famous wai kru music (pre fight ritual dance) , the traditional wai kru had been finished then me and my opponent come to the centre of the ring for one final face off before we had to scrap it out, he was laughing at me and I could tell he was really underestimating me and not taking me seriously and I couldn't wait to make him pay for it. The first round bell rang the first kick was thrown and I remember thinking "that just felt like kicking with a foam shin pad on" so I carried on kicking away.
Everything was going well I started off slow and tried to play the game a bit but I knew I had a lot more gears to go up and was growing in confidence by the second. The first round had been done and my corner were happy with how I was doing.
Round 2 came around quickly and I upped the pace a little bit more throwing my boxing a bit more trying to break my opponents heart with hard shots and assert my dominance in the centre of the ring however as I was throwing the punches I was getting caught in the clinch somewhere I didn't really want to be but I felt surprisingly stronger than my opponent so I stayed in there and worked throwing some big knees.
My opponent wasn't the same guy smiling and underestimating me anymore I was beating him in every aspect, he was crumbling by the second as I was crashing knees in to his body then landed the money shot and caught him with a beautiful knee dropping him for an 8 count. He was hurt badly but I took my time because I didn't want to rush in and get caught with an elbow, this was real Muay Thai now!
After the 10-8 round 2 I just used my head and listened to my corner but in round 5 I realised "SHIT I haven't even thrown an elbow yet" so I was looking to land at least one even after my opponent kind of conceded defeat, my opportunity came and I threw a beautiful right elbow which landed perfectly on my opponents chin he then clinched me and that was the last shot of the fight.
I'd done it, I cruised to a unanimous decision victory in the most famous stadium in the world against a Thai! It was the best feeling in the world, I had dreamed of fighting in Rajadamnern ever since I started competing in Muay Thai.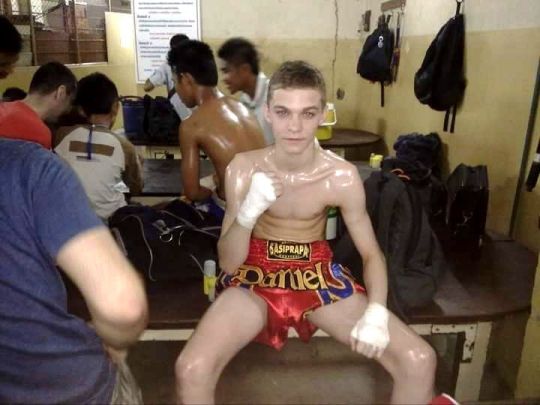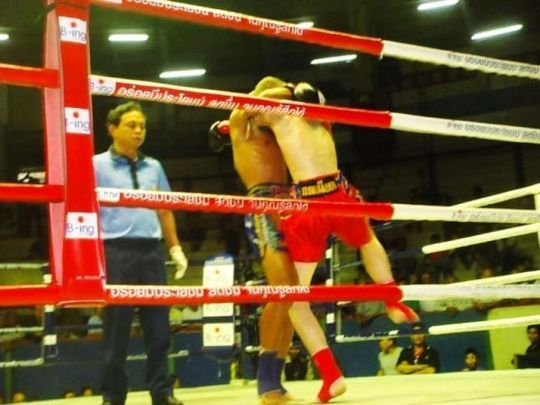 I especially wanted to win so I got to mimic my favourite fighters by getting a victory picture by the famous Rajadamnern wall, so as soon as I got out of the ring I made it clear where we were going… straight to the wall!
I felt famous I had tourists coming up and getting pictures with me it was my 5 minutes of fame.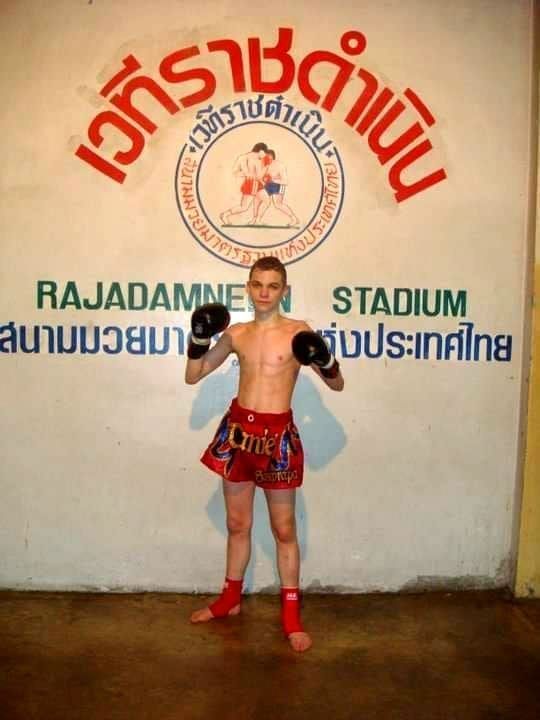 We walked back in the changing rooms and I gave my opponent a hug and said thank you which him and his team seemed to appreciate, I was then called in to an office where I received my Rajadamnern ID card and my fight wage… 300 baht I was absolutely buzzing how many fake Ralph Lauren t shirts could I buy at MBK with that?!
I always watched the Thais in the stadiums on YouTube and they look invincible the way they absorb certain shots and not show any pain and how calm they were whilst doing it all. But one thing this first trip to Thailand and first fight in Thailand taught me is that everybody is human and if I work just as hard if not harder than them and have a strong mind that I could beat the Thais.
I've stuck with the same mentality from then to now and it has rarely failed me yet! I had loads of psychological challenges in my first fight, getting through the weigh in alone was a mental battle, Thais talking about me and staring me out, the daunting look of the stadium and the fear of the unknown so I knew if at the age of 15 I could stay confident and relaxed still after all of them mental obstacles I had to overcome that I could make it big in this game and this was the start of something special.