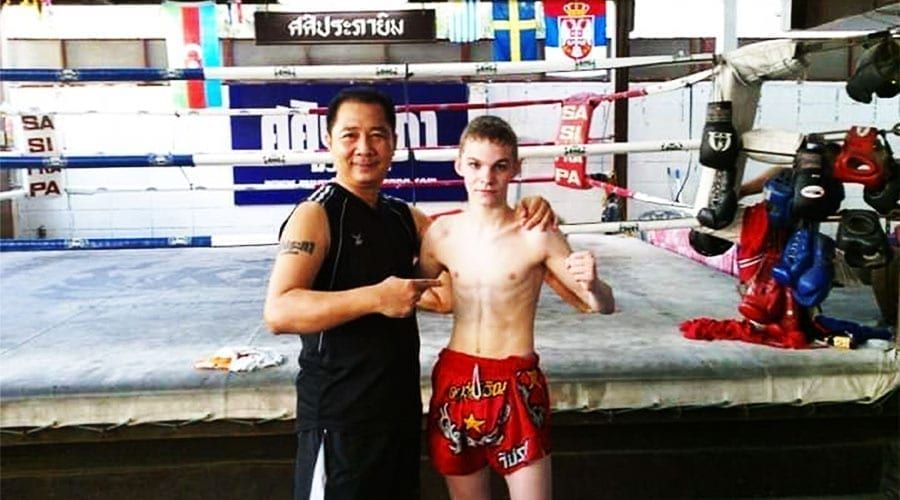 My first trip to Thailand
Ever since I stepped foot in to the Muay Thai gym I heard fellow team mates talking about how amazing Thailand was but how intense the training regime was for fighters out there.
So I soon became obsessed with watching Thais training on YouTube especially Buakaw, I admired the way he smashed the pads so fluently. I then met and started training with my trainer Parnpetch Sitpraphom (Sasiprapa) who was ex Rajadamnern champion and won awards for being the most exciting fighter on the most popular Muay Thai channel in Thailand – Channel 7. He moved to England to be with his wife Chrissy who only lived 5 minutes down the road from me! I always used to pick Parnpetchs brains about anything Muay Thai related and he used to share some amazing but eye opening stories with me about his time as a fighter in Thailand. I HAD to go see it for myself!
My parents had finally given in to me pestering them about going to Thailand to train, it was the only thing I thought and talked about so they saved up the money for me to go.
I was amazed and knew straight away I was going to fall in love with this place.
When me and my dad landed in Bangkok I couldn't believe my little eyes, yellow, pink and green taxis everywhere, a man in a hi-vis blowing his whistle unnecessarily every second waving some mad lightsaber looking thing at tourists and taxi drivers it was all a bit mad!
We then headed to Ladprao 130 to the world famous Sasiprapa gym. On the way to the gym my jaw was dropping… 3 fucking people and their dog per motorbike, about 20 lads sat in the back of a pickup truck on the highway?! Surely not? I was amazed and knew straight away I was going to fall in love with this place.
About an hour and a half/2 hours of sitting through horrendous Bangkok traffic we finally made it to Sasiprapa gym and met the owners Thakoon, his wife and their son. They showed me to my room which was upstairs in the gym overlooking the ring. The room was only small but I was sharing with 3 other lads, 1 Brazilian, 1 Swiss and 1 Chinese fighter my dad stayed across the road in an apartment and left me to it.
Straight away I had to learn not only how to live with older people but older people from different countries, but they all took me under their wing and treated me like a little brother. I'd been in Thailand for about 2 hours and I'd already received numerous amount of culture shocks, but there was still more to come…
NO TOILET ROLL to wipe my fucking ass?! What the fuck is that hose doing next to the toilet?!
So I stroll down the stairs and meet Torsak (Thakoons brother) I asked him if he knew where the toilet roll was kept and he just kept laughing at me and kept pointing at this hose by the toilet AKA the bum gun! I was mortified at first but grew to weirdly like the bum gun… but that's a story for another time.
---
6:30am I was woken up by Rachan my Brazilian roommate – time to get ready for the morning run. I got ready and came downstairs where I then met all of the Sasiprapa Thai fighters, none of them spoke English they just stared at me awkwardly, I didn't really know how to take it but just followed them to the running route. We walked down the soi (street in Thai) which absolutely stunk of dirty river water (if you've been to Bangkok you will know what I'm talking about) and got to the main road which was an exercise in itself trying to dodge all the motorbike taxis and pickup trucks going by.
It was like a dream come true – I remember kicking the pads thinking I was Buakaw!
We then start running down a little pathway that led to a little neighbourhood where a couple of families lived. They lived in what looked like little tin huts the kids had rags on for clothes some didn't even have anything on their feet. They were obviously very very poor, it was the first time I had ever seen people live in such bad conditions no air conditioning units no nothing to keep them cool in the summer time of Thailand. However I couldn't help but notice how happy and free the kids seemed running around bare foot playing with each other with no care in the world, it was bitter sweet moment for me and has stayed with me ever since.
We had finished the 8km run my skinny little legs weren't used to that type of distance but I sucked it up and got my gloves on ready for 5×4 minute rounds of pad work. It was like a dream come true I remember kicking the pads thinking I was Buakaw all the Thais watching me shouting "oooooway… oeeeeee" every time my whole 45kg body turned in to a kick.
I then got told it was time to clinch… no timer was set it was just clinch until you're told to stop. 40minutes straight of get my neck yanked down, thrown like an empty cigarette packet and my ribs getting slapped constantly with knees… I knew this was the place to be to improve in every area of my game but especially the clinch the Thais are just a different level when it comes clinching. Parnpetch's old trainer then grabbed my arm pointed at the bag and said "knee 300" then I got to finish and shower and refuel to get ready for all of that again in the evening.
The training regime everyday was the same morning and night – wake up, run, train, eat, sleep, repeat. But 3 times a week we would add in boxing sparring with 18 ounce gloves on!! I thought this is my time to shine, this young Thai had been spanking me twice daily in the clinch but I watched him hit pads and thought my technique outside of the clinch was better. So we Vaselined the eyebrows, lace the big pillows up and get ready for 3x4minutes of boxing sparring.
It was like "the dog house" in the Mayweather gym me and the Thai went glove to glove bit down on the gum shield and just let loose. You hit me ill hit you back harder was my attitude and that very attitude gained the respect of the whole gym. The Thai didn't ever show any emotion towards me, he never tried to interact with me up until that punch up, then he wouldn't stop shouting "DANIAN" at me he couldn't pronounce my name properly bless him!
After a hard week and a half of training pushing my body to what was probably the maximum limit for a 15 year old and experiencing so many crazy but amazing things in Thailand I was ready to fulfil my dream and fight and ready to fight in the biggest stage you can fight on as a Muay Thai fighter…
Rajadamnern Stadium
.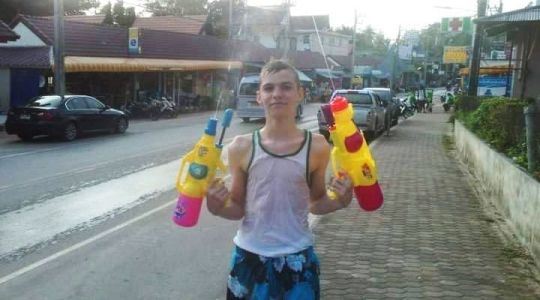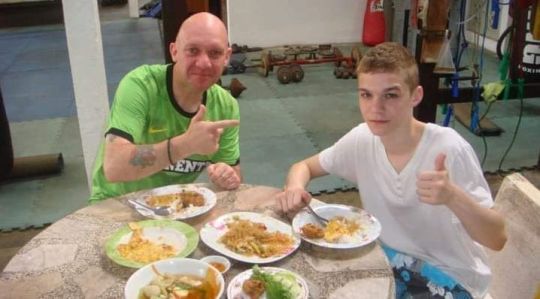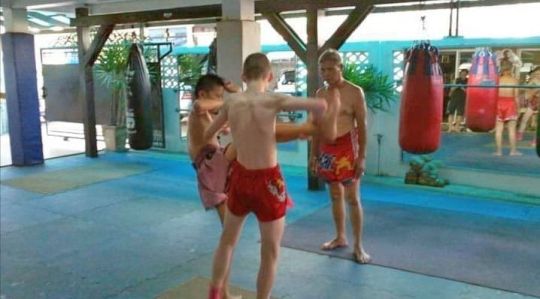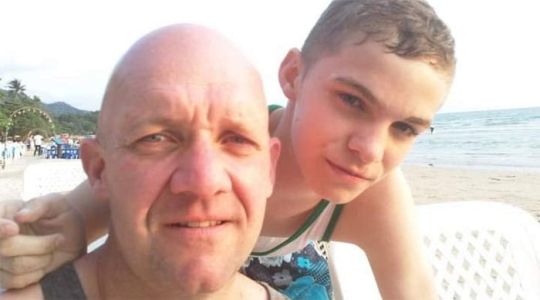 After
my fight at Rajadamnern Stadium
me and my dad travelled to the paradise island of Koh Chang for Songkran (Thai new year) which is one massive water fight and street party for 2/3 days! This just topped off one of the best times of my life it was like I was living in my own movie. It was the trip of a lifetime and it really did change my life and career for the better.
I realised when coming back to England that even a week and half training with these Thais changed my clinch game massively and after that trip I went on a bit of a streak of TKOing my opponents with knees from the clinch – I'd adopted the techniques that were getting done on me and was using it to my strengths when I come back to England.
It was clear my skillset got so much better from the trip however as a 15 year old kid myself seeing young kids in poverty and young Thai fighters in poverty fighting to put money on the table for their families but not making a big deal out of it, not feeling sorry for themselves just trying to make it in life was very humbling.
The young fighters with next to nothing didn't stop laughing and joking with their mates which made me think a lot of us in the western world really don't have an excuse to play the victim card when these guys literally come from nothing but crack on with life.
It changed me mentally and physically for sure and was the start of something special for me. Thailand became a second home.