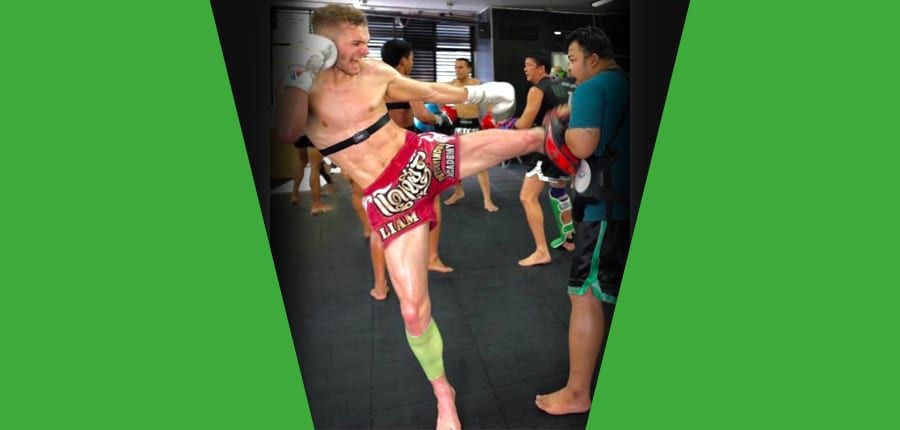 My Hardest Fight Camp ever
My whole career even since I was a junior, I have always put 100% into my fight camps and always took the job in hand seriously, whether it was an amateur bout or a world title professional fight. At the end of each fight camp, I told myself I don't think I could have put any more of my being into training for the fight – however in September 2017 I realised I was to be mistaken…
Preparing to face Rungnarai Kiatmoo9
After winning my 2nd World title in August against
Ryan Sheehan
I had a week or so of the standard post win celebrations, but after that it was straight back to business as I was set to face current
Rajadamnern and Thailand champion Rungnarai Kiatmoo9
.
I knew that I had to put 150% focus in to this fight camp in order to even be competitive…
I knew that I had to put 150% focus in to this fight camp in order to even be competitive with such an opponent, so I went back to Bangkok to train at Petchyindee for the first time in 3 years. I went 6 weeks prior to fighting to ensure I did 4 solid weeks of training/torture.
The reason I went back to Petchyindee is because they were very familiar with Rungnarai's style (as he was fighting monthly on Petchyindee promotions and he had fought a lot of Petchyindee fighters in the past) so they knew him inside out and knew the game plan they set out could be the difference between winning and losing the fight.
Training camp in Thailand
The first week of training in Thailand is always difficult – the humidity sucks the soul out of your body making it so hard to breathe during rounds. So, I eased into it guided by Hot (Petchyindee's sport science trainer), he was monitoring my heart rate from the start and giving me advice on where he wanted me to be week by week.
After 1 week of settling in, training twice every day, it was time to start upping the intensity – this meant the distance of runs and number of rounds were increased and a lot of red zone training! The running was what started to kill me straight away (as it always does when training in Thailand), running 10km every morning at 5:30am always writes my calf muscles off. 3 days into the week of training, my calf muscles and quadriceps were cramping badly due to the runs and sprints, so trying to find the energy to do any other type of training was always difficult but you had to grind it out.
The last 2 weeks of camp were up there with the toughest of my career…
The last 2 weeks of the camp were definitely up there with the toughest weeks of my fight career and really got me questioning a lot, 'is it worth it?'. I used to always ask myself daily and me and
Savvas
had to boost each other up and remind each other why we were there.
I genuinely don't think the training could have been any harder, especially having the sport science trainer making sure you're in the right zone in terms of heart rate – there is no slacking when the stats are on a screen showing whether you can work harder or not!
The pad rounds were just unbelievably hard, it was literally like torture at times but I knew for this fight I had to go above and beyond to win. The training was so hard that I didn't even realise how good my trainers were in terms of setting out a game plan for the fight, my mind and body was so tired that I didn't really appreciate how good they were at the time because I probably disliked them at that point!
How did I get through it?
It's amazing how powerful your mind is. A strong mindset is the key to success.
Well a lot of massages, vitamin B12 shots every week, ice baths daily and a vision of beating one of the best fighters in the world which I'd dreamt of since I was a kid.
It's amazing how powerful your mind is. A strong mindset is the key to success, the hard work in the gym definitely helped me develop a bulletproof mindset for this fight. Having like-minded people around me was a massive help – me and my brother from another mother Savvas Michael definitely helped each other keep strong when times were hard and having someone with his work ethic around me was a massive massive help to me.
I won the biggest fight of my career by 3rd round KO and it just cemented what I already knew in my head – that hard work and self-belief really does pay off – no fight was ever going to be harder than that training camp.
My fight camp training regime
---
Monday to Saturday
Morning Session: 5:30am
10 – 13km run

2 x 5mins rounds bag work

300 swing knees

300 teeps

100 kicks (power)

Ab workout (any exercise) 300 reps

Chin ups
Evening Session: 4:00pm
1x5mins Shadow Boxing

2/3 times a week Boxing Sparring – 3 x 5mins rounds

2/3 times a week Technical / Play Sparring – 3 x 5mins rounds

2 x 10mins rounds pads then 1 x 5mins round

Before the start of each round:

40 speed punches
40 speed kicks (20 each leg)
40 speed knees (20 each leg)
40 elbows

1 x 30mins of clinching

5 x Incline sprints on the treadmill (sometimes speed or sets varied)

300 x ab workout

100 x press ups

** Sometimes Hot the sport science trainer would add on some sort of bodyweight strength exercise for good measure.